Which do you want first...Good news or bad news? I knew you'd pick the bad news, so we could end on a happy note! I was going to announce tonight that I was having a Fairy Awesome GiveAway! I'm not announcing it tonight because it is so big it is going to take me a couple more days to get if off the ground. The good news? I'm having a Fairy Awesome GiveAway starting sometime very soon!
Winners and Winners! I was a winner and I made someone else a winner this week, too! My coffee winner from last week was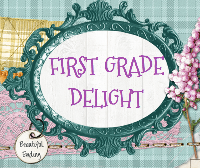 That was good news for her. I hope it isn't too bad for you! Be sure to come back later this week for another chance to be a winner. If I'm hosting, you know coffee will be involved!
This week I won this cute guy...
If I don't get to attached to this cutie, he is going to school for adventure in the fall. Each student will have a chance to take him home and show him what home is like for them. Then they'll write down their tale and share it with the class the next day. Christy has GiveAways regularly. All you have to do is like her on

facebook

to find out when the next GiveAway is. Isn't that good news?




The bad news is...I miss my friend Laurie from Chickadee Jubilee. I thought about her yesterday. My family and I look forward to a yearly art fair in our city. This year the fair had more things than ever that I wanted. I usually limit myself to one thing. When I saw this fairy door I knew I had found my item. The first time I had heard of fairy doors was from my friend Laurie. Go see the ones that made me want a door of my own HERE. (Plus you'll get some amazing ideas for your calendar wall!)

Isn't this the cutest thing ever?! I found the seller on Etsy.
Go say "Hi!" to Fairy Hill Woodworks

If I don't get to attached, I'm thinking about putting it in my classroom! Maybe I'll just have to get another one.. The door comes complete with the poem you need to read aloud, so that a fairy will use it. Only true magic can open the door!





Shopping on Friday, I got some bad news. As I shopped for decorations for my son's high school open house, I couldn't find the little picture holders I was looking for. I didn't know what to do. Necessity is the mother of invention! My daughters and I brainstormed some different things we could do and voila...Picture holders that are cheap and easy to make! That is good news!



Bad news...I'm tired! This has been a very busy day. Good news...I have a warm shower and a bed waiting for me! Don't forget to come back later this week for more good news!!